When performing a formal appointment review, the volunteer manager could use the Appointment Review (AR) Form to record the outcome of the meeting and any key actions.
The AR Form is produced by and is available from The Scout Association website.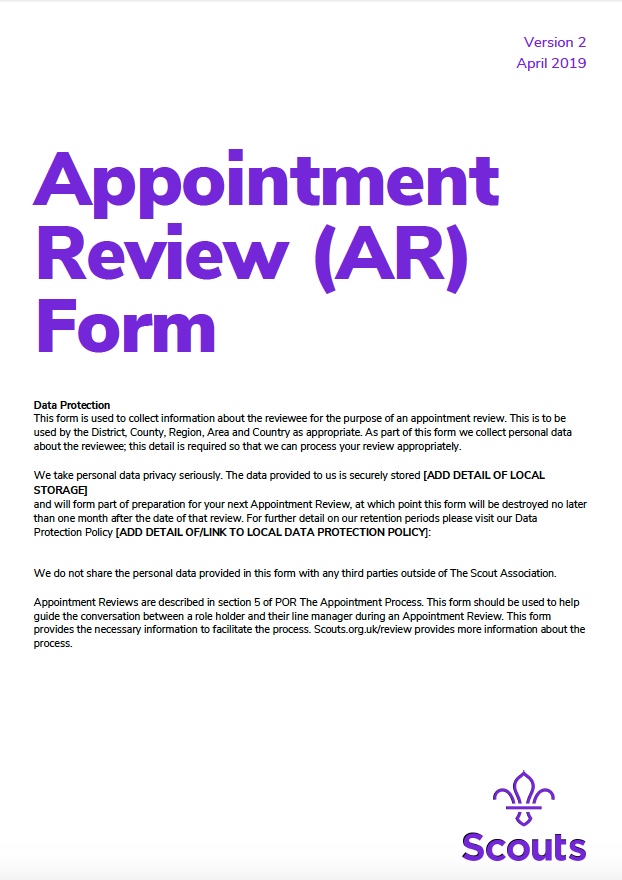 Section A – Information can be completed before the meeting.
Section B – Dates for mandatory training can be completed before the meeting, and are available on Compass. This helps to highlight gaps in training. Having information on training courses to hand can be helpful to pass on to the volunteer.
Section C – It is helpful to give the volunteer advance notice of the questions to be discussed in this section. This can help the volunteer prepare and feel comfortable with the discussion.
Section D – This is where the decision regarding the outcome of the review is recorded. Whether to renew the appointment; reassign the volunteer to a different role; or to retire from Scouting. In most cases the decision is made in agreement between the volunteer and volunteer manager.
In some cases, the decision is taken by the volunteer manager. In this case, advice should be sought from the District Commissioner (DC) before the review takes place. See the page on Greater Concerns.
If the decision is to renew the appointment, then the next appointment review date should be agreed with the volunteer and entered in the Compass record. This should be communicated to the District Appointment Secretary.
Formally, the decision on renewal, reassignment or retirement is taken by the Appointments Advisory Committee (AAC) in conjunction with the DC. In practice, the line manager is often empowered to make most such decisions, but the AAC and DC reserve the right to amend decisions.