The more young people are involved in shaping their Scouting experiences the more they will get out of it, and the more likely they are to stay, do well and achieve their top awards.
For further information or enquiries:
Contact County Youth Commissioners
Youth Shaped Scouting is all about young people working in partnership with adults in Scouting, allowing young people to speak up, be heard, and work towards something they are passionate about.
We want every young person to shape their own adventure, take on responsibility, develop skills, make decisions and influence their Scouting programme and experience.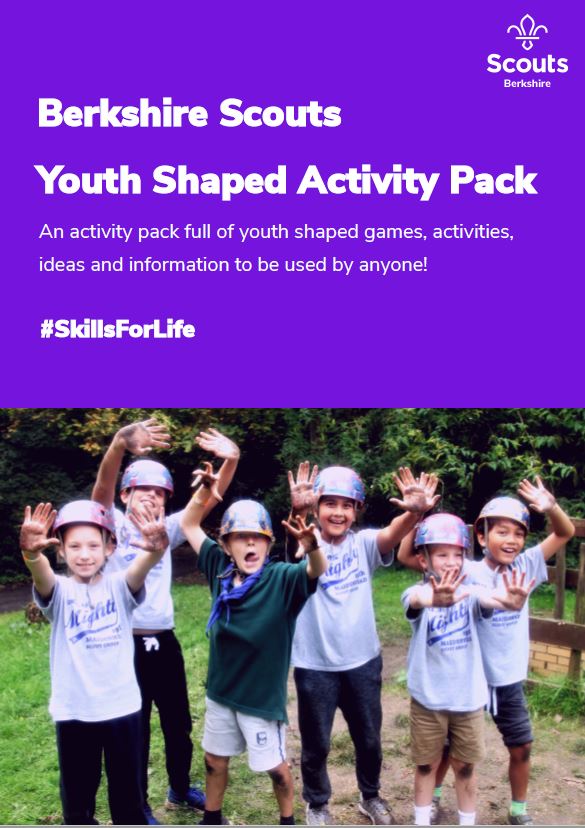 Berkshire Scouts
Youth Shaped Activity Pack
Youth Shaped Scouting is simple and is important for young people to have a say in their Scouting.
Our County Youth Commissioners have produced an activity pack to support youth shaped programme ideas. Within this resource you can find a range of different activities suitable for all sections. Activities range from five minute games to fundraising and charity events! Other ideas and resources can also be found within the pack which can be downloaded using the link below, as well as 'printer friendly' version.

Berkshire Scouts Youth Shaped Activity Pack (Colour)
Berkshire Scouts Youth Shaped Activity Pack (Printer Friendly)
Youth Shaped Scouting Workshop
James and Rachel have gained feedback from many Leaders from around the County that they would like to know more about Youth Shaped Scouting. With support from each of the District Youth Commissioners, an informal training session has been put together to answer any questions Leaders may have on Youth Shaped Scouting.
This session, can be run by either James, Rachel, or any of our fantastic District Youth Commissioners. It is 20 minute session, so can fit perfectly into an evening meeting, or event. It covers what Youth Shaped Scouting is, why it is important, examples of how easy it is and ideas into how to overcome any barriers. It can also be changed and altered to fit any other concerns you and your Leader team may have!
If this is something you would like James, Rachel or our District Youth Commissioners to run at a meeting or event then please get in contact with your County Youth Commissioners!
Future Leaders Project
Are you ready to make a difference? Future Leaders is back for 2019 and we are looking for enthusiastic Scouts aged 16-25 to come and join us! This is an excellent opportunity to find out about what opportunities are available to you when you become an Adult Leader!
These opportunities include finding out about other roles within your District and County, support in gaining your top awards such as QSA, creating and undertaking your Scouting project, transferable skills for your CV and much more! This is completely flexible and you can choose to get involved in as much as you like or simply just take away the information!
The first event is on 27 October 2019 at South Street Arts Centre, Reading and is completely free! All you have to do is sign up on this Google Form.