Since their official roll out in late 2021, Squirrels have grown exponentially across both Berkshire and the UK with new Dreys springing up almost weekly.
Consequently, increasing numbers of young people and their Scouting communities are starting to see the benefits of our newest section as the stand-out red uniforms begin to be seen alongside turquoise, green and beige at Scouting events up and down the country.
Squirrels is moving a step beyond the traditional playgroup to provide opportunities for young people to cement and build on the foundations of their early formal education, while engaging with their communities and surroundings in new and meaningful ways.
The impact and value of Squirrel Dreys are being felt not just by the Squirrels themselves, but by the adults who care for them, in both a home or education setting, and across the Scout Groups who house them.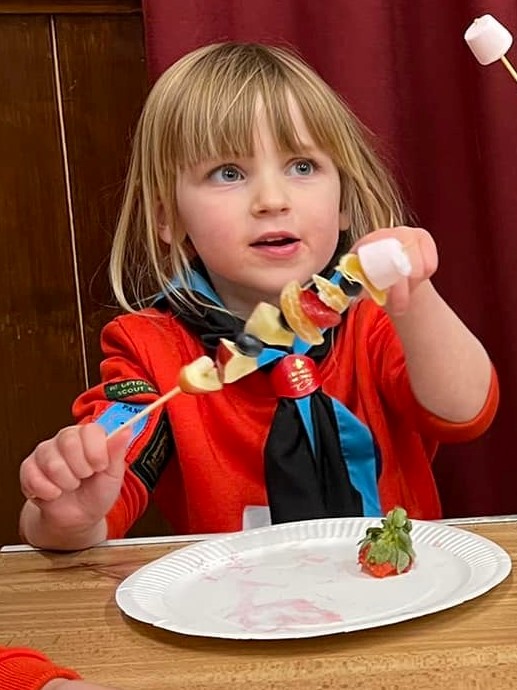 Educating the next generation
The children who started our Squirrel Dreys were those who were toddlers through the pandemic – their social circle mainly reduced to their immediate family. The impact on these children in terms of key social skills, fine and gross motor skills and other key areas of development has been well noted in numerous reports by organisations including OFSTED, The Nuffield Foundation and the Family and Childcare Trust.
Michelle O'Sullivan is a Squirrel Leader at 1st Cookham and an Early Years Practitioner. We spoke about how Squirrels can complement a formal education setting to help children develop core skills.
"Children at this age like routine and respond well to familiarity and instructions. Squirrels provides a good counter-point to the more free-play structure employed in EYFS settings. As Squirrel Dreys are also generally smaller and with higher ratios than EYFS settings, we can also provide an opportunity to focus on some of those core skills in more detail."
Alongside the Squirrels strong focus on literacy, with each Drey session being based around a relevant story, Michelle has also found Squirrels is a great way to introduce 'stealth learning' to enhance formal education. A recent Easter Egg Hunt for her Drey introduced elements of the early years' curriculum for Maths, Literacy and Pattern Recognition.
It's a position backed up by Becky Loring, Squirrel Leader for 1st Ufton Nervet and an OFSTED Outstanding rated Childminder, who highlighted the role Squirrels has to play as a safe space for young people to practice and develop burgeoning skill sets in a less target-based environment than a classroom typically provides.
"Literacy has become such a huge focus in classes that it can be overwhelming for the less able. We take a different approach by enabling children to see the benefits of reading and writing without the mistake correction that happens in classrooms. It allows them to practice their skills without fear of making a mistake because we gently encourage and help using our parent helpers. We adapt tasks so everyone can have a go and those children who are still developing key skills can see what can be done by watching the more accomplished of a mixed ability group."
The above example is just one way in which Squirrels is allowing children to embed and put into practice the knowledge they gain from their early years setting, whether that's with a pre-school, school or childminder. Becky emphasised how 4-6-year-olds are constantly learning new skills and have a need to work out how to use them in different environments. Squirrels offers a safe space for them to do that, for an absolute bargain price.
Serving the Community
Following the massive social shifts of the last couple of years, Squirrels is playing a key role in helping create and connect communities. With many families making large moves during the pandemic, and a significant number of Ukrainian children rehoused here following the onset of war in their country, Squirrels offers the chance for these children to be connected with and immersed in a local community of their peers, helping them build new friendships, familiarise themselves with a new landscape and wildlife and generally ease the transition into their new home.
Socially, Squirrels is helping our youngest members to discover, or in some cases rediscover, the wider world. Badges such as Local Superhero remind them that they are part of a community, of whom their first memory may be a view from a doorstep. In tandem, Challenge Awards such as All About Adventure teaches them of the joy of being outside and exploring, helping to rebalance some of the over risk-averse elements that were drilled into their early childhood.
But the community they are integrating with is benefitting too!
As Becky Loring noted: "As the Squirrels grow and develop, so does their Scouting journey, as they get to stay on through all the sections and form lifelong bonds with other children and young people. Being a Squirrel also helps encourage and normalise volunteering from a young age; which will hopefully allow the next generation to be giving and community minded individuals."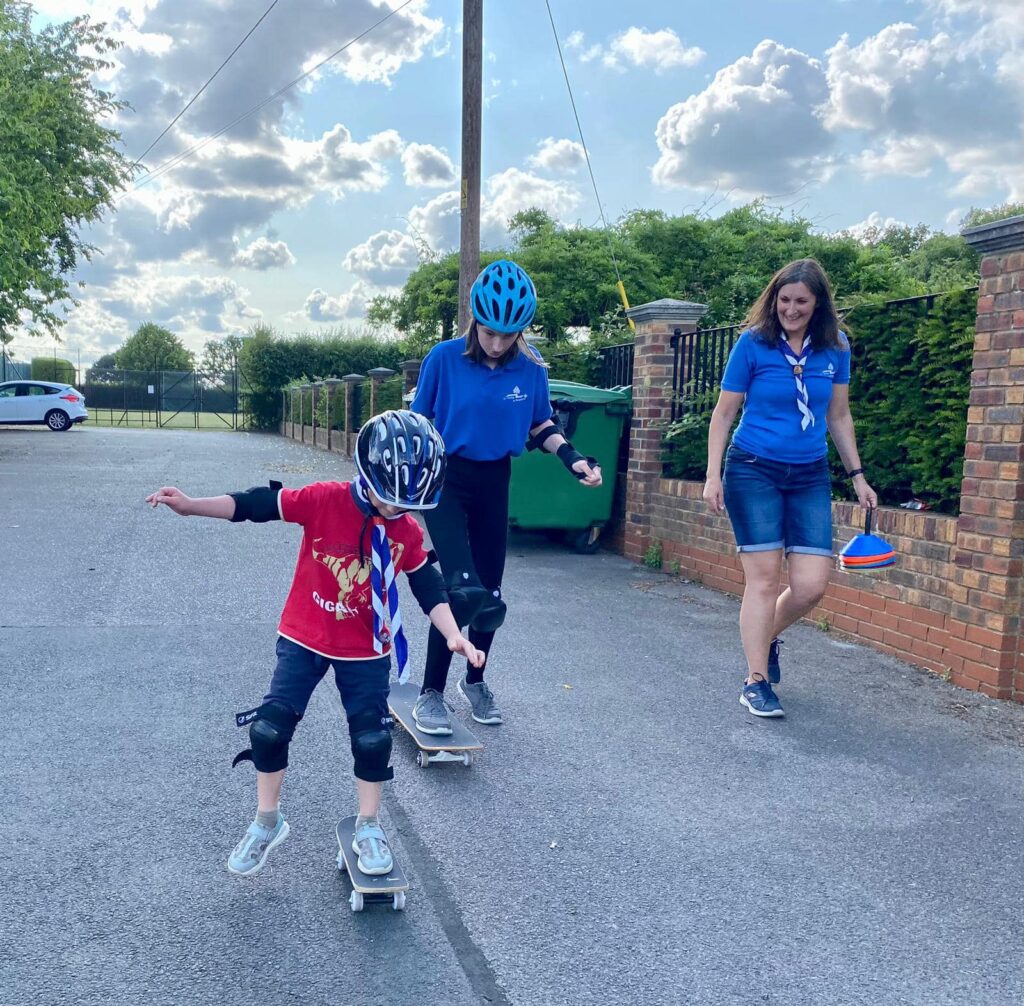 Squirrels seems to appeal to 'community-minded individuals' with a number of adults taking their first steps into volunteering with the Scouts through this section. Noelle Vaz, Squirrel Leader for 5th Woodley, hadn't been involved with youth groups since her days as a Girl Guide in India, but saw an opportunity when the group didn't have a Squirrels Drey for her young son.
While citing 'nostalgia and enthusiasm' for her initial agreement to sign up, Noelle explained that what happened next quickly proved her original snap decision was the right one for her, and her son:
"I quickly found myself accepting the challenge to lead and develop my own skills while facilitating those of the next generation. This is only because of the support from the leaders in 5th Woodley who I met as I went along. As parents we all want the best for our kids and Scouting is a great place to start. I have learned skills for life and hope my kids will too."
This influx of enthusiastic, new volunteers is benefitting Scout groups as a whole as well, with many parents coming into Scouting through Squirrels but volunteering throughout the older sections. We spoke to Nick Forbes, Lead Volunteer at 1st Thatcham, who has seen a fantastic impact since they introduced Squirrels in April 2022.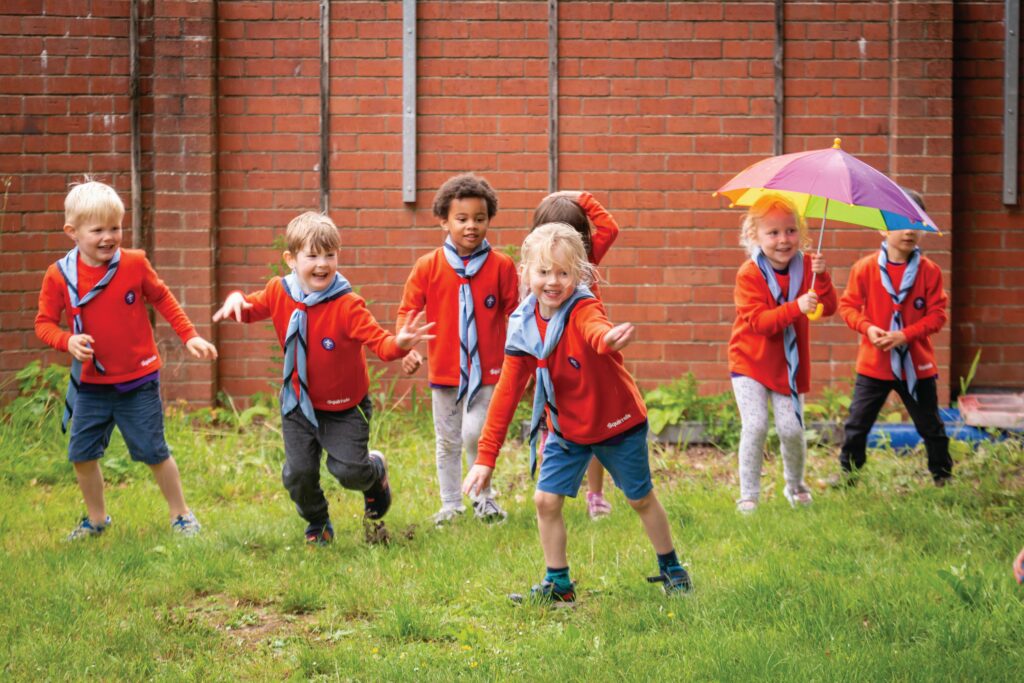 "Squirrels is always well-attended and retention into Beavers is very good. We now have a steady stream of new Beavers, who already understand the Scouting basics. The parents of our Squirrels also better understand what is involved in Scouting and are more likely to help within older sections. We have had a number of parents ask to do more and take over various tasks, freeing up leaders. From my point of view, Squirrels has been very successful and I wouldn't hesitate to recommend other groups to set up a Squirrels Drey. If anyone wants to see Squirrels in action, please contact us to arrange a visit one Saturday, I think you will be pleasantly surprised at how easy it is."

What next?
As Squirrels enters into its second year nationally, Berkshire is keeping pace with nearly 30 Dreys open across the County. Despite this fantastic embrace of Scouting's newest section, nearly 1000 children were looking for a Squirrels place in Berkshire in the 2023 census – so there is plenty of room to grow still! With all these incredible benefits available to young people, volunteers and Scout groups alike is it any surprise Squirrels have proved so popular?
If you would like to talk about potentially bringing Squirrels to your Scout Group – help is available through our Local Development Officers. Please get in touch with Carly Brims or Kelly Fricker to discuss further.