The story of women's struggle for equality belongs to no single feminist nor to any one organisation but to the collective efforts of all who care about human rights.
These words from world-renowned feminist, journalist and activist Gloria Steinem have been used to illustrate the theme of this year's International Women's Day: Each for Equal. Collectivity is at the heart of everything we do in Scouting; only by working together can we make a true positive and lasting impact on society.
We have seen a steady increase in youth female participation in recent years, currently at 25% across our county, but there are still opportunities to do more. Our target of providing Scouting for all is only achievable by addressing and tackling the challenges that remain.
On the occasion of International Women's Day, our County Youth Commissioner Rachel Stout reflects on her own experiences and her mission to attract even more females into Scouting.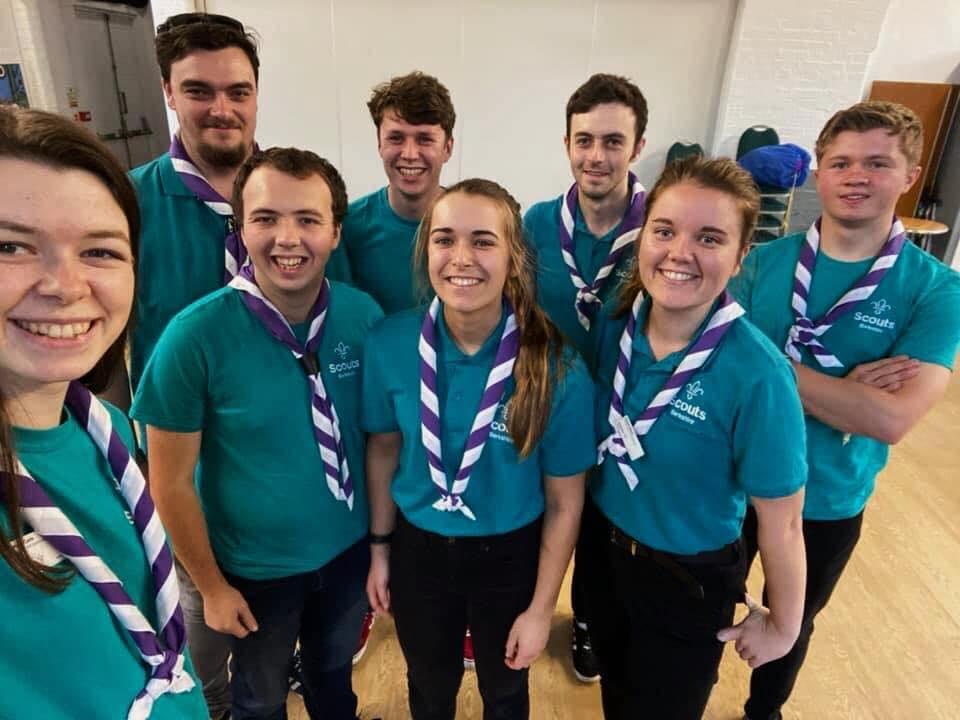 "These are really exciting times to be involved in Scouting. The number of females is increasing year-by-year, allowing more girls to take part in programmes that they wouldn't necessarily be able to. Scouting is growing at an exponential rate, especially in Berkshire, and I'm immensely proud to be a part of it.
That said, there is still a stigma surrounding women in Scouting, at all ages. Growing up in my local Scout Group with almost parity between boys and girls, and having more female leaders than male leaders, it wasn't until I left university, and started working, when I realised that the perception of girls in Scouting hasn't moved on as much as I thought.
Although my colleagues are now fully aware that Scouting includes girls, there were a lot of questions initially. What part of "I am a Scout and I am female" wasn't clear? Why is there still a disconnect between the two? Although the number of females getting involved in Scouting is over 25% and is rising, there is a long way to go on removing this perception that girls can't participate in Scouting. Part of this is surely generational, so will improve over time. But how quickly?
In my formative years as a Young Leader and an Assistant Beaver Scout Leader, I was surrounded by some amazing female leaders. I had the absolute pleasure of working alongside them for so many years both at home and at university. At a local level I believe the inclusion of female leaders has improved. On the whole, there is a good mix within the groups I have visited.
What part of "I am a Scout and I am female" wasn't clear? Why is there still a disconnect between the two?

Rachel Stout
Going into my County role, three-and-a-half years ago, there was a difference in the ratio of females compared to local levels. There still is. I truly believe that, as a County, we appoint anyone that we think would be brilliant for a role regardless of gender, but there does seem to be obvious difference in the make up in meetings. Often, I can be the only female in meetings. Why is that? We have some brilliant female leaders in County roles, and we need to encourage more to take these up. It would really interesting to understand what we can do to achieve this. I know there are some wonderful female leaders out there. Come and join us!
I don't think I realised just how inspirational my fellow leaders both in 1st Purley & Pangbourne and in Portsmouth would become in forming my adult views. Everyone has their busy lives, a hustle and bustle, a frenetic hive of activity; it is truly amazing how leaders put so much time and effort into running sections to allow young people to take part in fantastic programmes. This is where Scouting comes into its own.
More recently, I have been inspired by Alex Peace-Gadsby (Chief Commissioner England, pictured below). I think she is pretty fab and is a brilliant role model to so many Scouts. I personally think she is a great example for any female wanting to get in involved in other Scouting roles.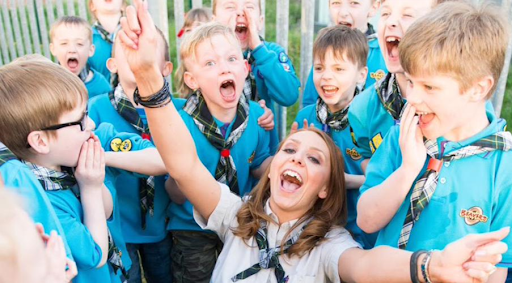 Outside of Scouting, there are so many female figureheads that I follow and adore. More and more get added to my list all of the time, people I aspire to be like. Celebrities and high-profile women such as Jessica Ennis Hill, Serena Williams, Michelle Obama, the England Netball team (they have changed the appearance of the sport so much), Christina Koch and Jessica Mier (the first two women to do a joint spacewalk). More recently, Ruth Bader Ginsburg – what a woman! I've watched quite a few documentaries on her, and she has amazed me in her grit and perseverance. Also, Alexandria Ocasio-Cortez, she will go really far…
More locally, I work with so many other brilliant people in Scouting, both male and female, that I admire in their knowledge and creativity. I wish I could be even just a little bit as good as them. My brilliant netball club, friends, the people I work with in the day job, the list goes on and on. I'm lucky to be surrounded by fantastic individuals. I really think leaders in Scouting can help young people feel supported in achieving whatever they would like to do.
I would really like to think that in my County Youth Commissioner role that I have had a responsibility to inspire younger members. It would be an honour if just one young girl has been inspired by something in which I have been involved. I love this role and take a lot of pride in it, making sure that our programmes are being shaped by young people.
I hope we have made a difference, but our District Youth Commissioners are so much closer to a local level, I truly hope that young people are inspired when they meet them. It is important to get young people's views about their Scouting and allow young people to take part in any role they want. Without this County Youth Commissioner role, I would never have had the opportunities I have had today. I hope young people see our roles and understand that they have every right and ambition to do them too.
At the beginning, as part of my role, I had the chance to sit on the County growth team and understand where and how we set up new Scouting provisions. I've remained on this team ever since. Even in 2020, the number of girls in some groups is still really low. I have been driven to understand why and what we can do to change it. It's become a real passion of mine. I've created countless spreadsheets and looked at lots of numbers to try and really understand this, but there is a still a long way to go.
I would really like to think that in my County Youth Commissioner role that I have had a responsibility to inspire younger members. It would be an honour if just one young girl has been inspired by something in which I have been involved.

Rachel Stout
We have some fantastic female ambassadors in Scouting – such as Helen Glover (pictured below) – but I would love to see even more influential women involved. It all stems back to the incorrect stereotype that girls aren't allowed to take part in Scouting. This perception needs to change.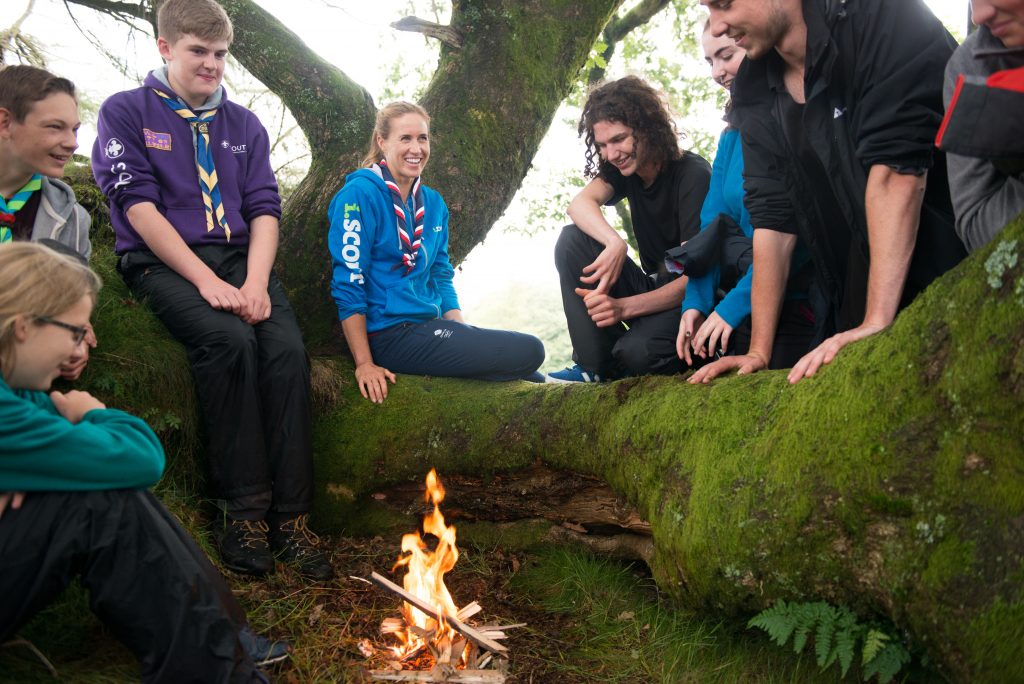 We are actively striving to do something about that across Berkshire. Identifying more ambassadors, more local role models, doing more work with the media to show representative activities and the fun things we do. We're not just presentations and awards. We need to send out a positive image, one that is illustrative of Scouting in 2020. Getting more females involved in Scouting is a bit of a mission of mine as I feel so passionate about it. This decade will be fascinating, and we all have our collective part to play in helping it unfurl in a way that makes Scouting equal for everyone."