Scouts in Action
Every week over 7000 young people in Beaver Scout Colonies, Cub Scout Packs, Scout Troops, Explorer Units and Scout Networks across Berkshire have a fantastic time in Scouting. Everywhere there is adventure, fun and friendship. These pages provide a glimpse of that exciting activity. Enjoy!
If you would like to find out how to get involved, visit our Want to Join page. To submit your story, click here.
South Berkshire JOTI / JOTA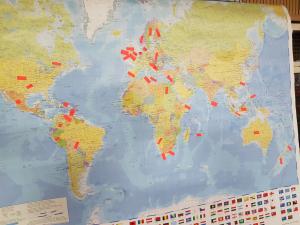 South Berkshire JOTI / JOTA
Image contributed by: Kirsty Aldridge
(click to enlarge)
It was wonderful to welcome more Scouts, cubs and explorers to our district JOTI / JOTA even this year. We welcomed members of Unit 62 from across the County on the Saturday afternoon as well as 2 of our Scout troops on the Friday evening. We had a dozen or so young members call in with their parents and gain communicator or staged badges while also talking to Scouts around the world on the radio and the internet chat channels. As always the scoutlink minecraft servers were popular as was the game we set up encouraging good communication skills over wireless radio and headsets to help \'diffuse the bomb\'. We had code breaking, electronic circuits, morse code, enigma machines (on pringle tubes), semaphore and phonetic chinese whispers.
Contributed by: Kirsty Aldridge