Scouts in Action
Every week over 7000 young people in Beaver Scout Colonies, Cub Scout Packs, Scout Troops, Explorer Units and Scout Networks across Berkshire have a fantastic time in Scouting. Everywhere there is adventure, fun and friendship. These pages provide a glimpse of that exciting activity. Enjoy!
If you would like to find out how to get involved, visit our Want to Join page. To submit your story, click here.
Night Fishing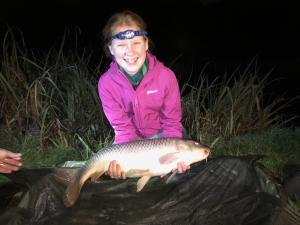 Night Fishing
Image contributed by: Derek Salter
(click to enlarge)
10 Scouts, 1 Cub and 1 Beaver from 2nd Bracknell & The Parks Scout Groups last Saturday went night fishing at Holme Grange Fishing lake. After erecting their tents, cooking sausage pasta sauce on trangia's and washing up they were soon catching 14lb carp from the lake and learning how to care for the fish from gently landing into the net, removing the hook, checking & treating any cuts and grazes on the fish with antiseptic gel, before carefully returning the fish back to the lake. \"These fish are huge\" "oh they are lovely" "oooh their all slimy and wet" I heard Scouts say. The Scouts literally lived upto the night fishing experience with the last one retiring to their camp bed at 1am only to be woken by their Leaders at 7am to start packing and striking camp followed by a hearty cooked breakfast before going home. The event would not have been possible without the support and permission from the lake owners Phil & Barb through Crowthorne Fishing www.crowthorne-angling.co.uk and our two experienced fishing volunteers Jason and Matt. Many thanks to you all. The Scouts camp fee included a donation to the The Brain Tumour Charity www.thebraintumourcharity.org as one of the lake owners good friends is recovering from brain tumour surgery and we wish Ian "Chilly" Chillcott a speedy recovery.
Contributed by: Derek Salter