Scouts in Action
Every week over 7000 young people in Beaver Scout Colonies, Cub Scout Packs, Scout Troops, Explorer Units and Scout Networks across Berkshire have a fantastic time in Scouting. Everywhere there is adventure, fun and friendship. These pages provide a glimpse of that exciting activity. Enjoy!
If you would like to find out how to get involved, visit our Want to Join page. To submit your story, click here.
Vanguard Explorers visit Yorkshire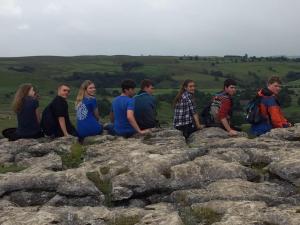 Vanguard Explorers visit Yorkshire
Image contributed by: Cathryn Knight
(click to enlarge)
The Vanguard Explorer Unit have just got back from a great week in Yorkshire, during the week they visited Malham Cove (in picture) Hawes and saw how they make the famous cheese and did lots of lovely hikes in the lovely countryside of Yorkshire.
Contributed by: Cathryn Knight