JOTA–JOTI (Jamboree-on-the-Air – Jamboree-on-the-Internet) is an international Jamboree taking place around the world simultaneously. It is organised by WOSM, the World Organization of the Scout Movement and allows Scouts from all over the world to communicate over the Air (amateur radio) and the Internet using any technology locally available.
There are loads of different ways to communicate, including text-based chat, voice chat, video chat, emails, blogs, and social media networks. JOTA–JOTI allows you to build friendships around the world and to find out more about their culture and scouting life.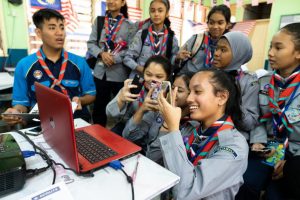 JOTA–JOTI takes place in October. The dynamic programme features a variety of non-formal education activities, including webinars, global campfires, talent shows, live shows, and much more. The JOTA–JOTI programme aims to support Scouts and non-Scouts of all ages to learn about communications technology, the values of global citizenship, and how together we can solve the most pressing challenges facing our planet.
How to join the event:
1. Sign up on the JOTI page. You can log in with Facebook or your email address. Remember your password! You can sign up as an individual or as a group if you are a leader planning to join on Zoom. Make sure you enter the correct time zone so you have the correct times for the activities.
2. Once registered, you visit the site map to consult the programme and the programme schedule.
3. Explore the different areas, there are timed activities and some you can do anytime. You can get a reminder of the ones you like. JOTI is open to scouts and non scouts people, make sure young people do not disclose personal information and are safe online.
Activities to promote online chat:
Communications and code breaking activities :
Great activities you can use at anytime and in the lead up to JOTA-JOTI or shortly after.
Badges these activities help you achieve:
Communicator
Digital Citizen
International
World challenge
You can view the requirements for each of these on your section page :