Project Africa is a Berkshire Scouts international community project and global awareness programme to support Scouting and rural schools in Uganda – put simply:
young people supporting young people!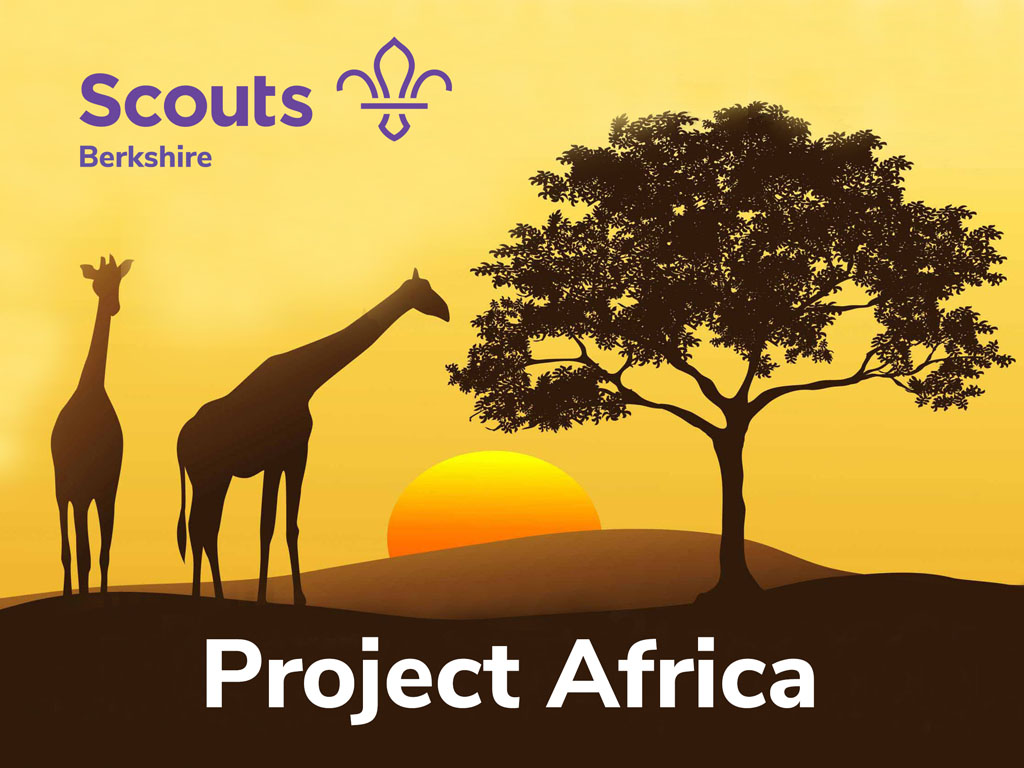 The third visit to Uganda by Berkshire Scouts to complete international community projects took place in 2019 and was a huge success.


105 Explorer Scouts and 29 leaders took part in Uganda 2019. Community projects (renovation and construction work) were based at three sites: Buwala and Bituli (both rural primary schools) and the Jinja District Scout camp site at Buwenda. A fourth project site (Bubugo primary school) was operated out of the Buwala site – a short distance away.
Projects at the three primary schools and the Scout camp site were the main focus of the expedition and work was undertaken to improve the facilities at each location. Work at the primary schools (in partnership with Soft Power Education) included painting and refurbishment to improve very tired and grubby classrooms. The classrooms were cleaned, sanded and repainted internally and externally. Internal murals were also painted to support teaching and to help brighten the classrooms.
Working alongside local builders, Berkshire Scouts also made bricks by hand and contributed to the start of new 'teacher houses'. The head teachers and local communities at all three schools were impressed with what the Explorer Scouts achieved and they were immensely grateful for the work which vastly improved the school environments.
Project work at the Scout camp site (Buwenda) was to complete the Banda accommodation blocks which had been derelict for many years; to add a rainwater harvesting scheme to the main building; refurbish some thatched shelters; and to generally improve the camp site facilities.
All project teams moved from the schools to the Scout camp site for the last two days in Uganda. During this time there was the formal adoption ceremony for the Bandas with senior members of the Jinja Scout District, including one of the leaders who helped set up the Scout camp site in the 1990s (supported by Avon Scout County). Project work carried out by Berkshire Scouts at the Scout camp site was fully funded by the Slemish Scout District and Antrim Scout County.
An integral part of the expedition was a 4-day safari visit to the Murchison Falls National Park which was completed in three separate groups. Each group had two game drives; a visit to Murchison Falls; a boat trip to Lake Albert; and a visit to the Ziwa Rhino Sanctuary. Although it was a long journey to Murchison Falls from the project sites, the safari was a highlight for many participants!
Other days were set aside for organised activities chosen from a selection including white water rafting on the River Nile; horse riding; kayaking; mountain biking; ziplining; and shopping in Jinja.
At the end of the expedition all participants congregated at the Scout camp site to celebrate with a barbecue and a local dance and music group provided entertainment while giving Scouts a chance to relax before the long journey home.
Similar to Uganda 2011 and Uganda 2015, Uganda 2019 set out to take Berkshire Scouts to Uganda to help make a difference to local communities as well as providing the participants with a special life experience. The leaders and participants built new friendships; learned new skills for life; and experienced Ugandan culture in a way that would not happen on a "normal" holiday.
Berkshire Scouts can be proud that they were able to make a significant contribution to local communities; schools; and Scouting in Uganda.
For further information or enquiries:
Contact Project Africa